From I-84 West take exit 17 through downtown Troutdale to find us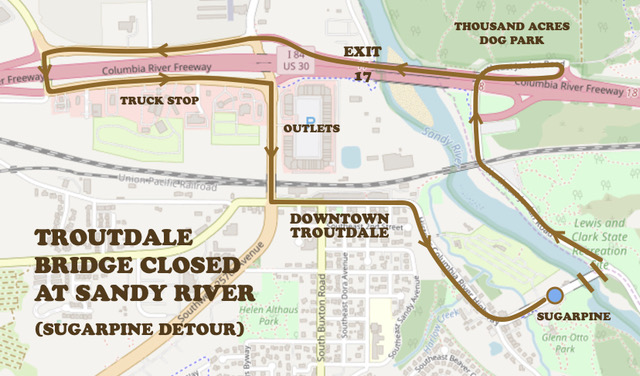 Renovation of the Troutdale Bridge spanning the Sandy river will begin March 9th and will be closed to all motor vehicles for an 8 week period.
ODOT is repairing the walkway, guardrails and lighting. People walking, biking or rolling can continue using the bridge during construction.
1208 east Historical Columbia River Highway
Troutdale, OR  97060
Thursday through Monday: 11am-7pm
Tuesday & Wednesday: Closed
We are located in Glenn Otto Park, a renowned natural recreation area on the Sandy River, and at the start of the Historic Columbia River Highway, America's first scenic highway, following the beautiful Columbia River Gorge ridge waterfalls.
Seating is available in our covered patio and outdoor patio under umbrellas. We have high chairs for wheelchair and child friendly tables seating four. For larger groups there are two long tables with benches inside, 6 long tables outside, as well as three large picnic tables and green space under trees overlooking the river. Along the bar surrounding the deck we have seating on tall stools.
Currently, due to Coronavirus concerns, we are unable to offer dine-in seating or counter service. Please place an order via our online store and it will be be ready for pickup in roughly 15-20 mins.
Thank you and hope to see you soon!