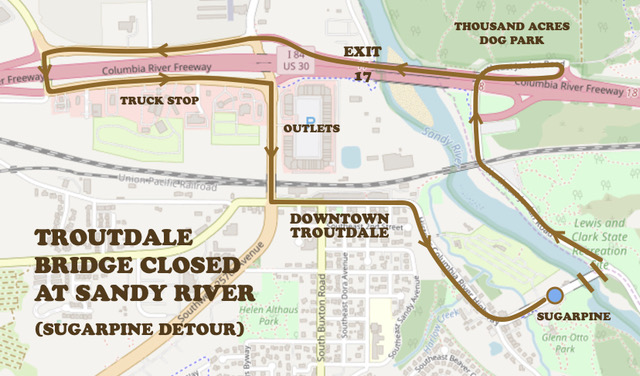 Troutdale Bridge construction is now scheduled to start March 16th.
The map above shows the closure and a detour around the bridge.
The bridge will be closed to vehicular traffic for an 8-week period. Pedestrian and bicycle traffic will remain open the whole time, but sadly, there is no parking near the bridge.
Fortunately, there are other options to reach our parking lot or drive-thru that we will share below. Also, be aware another construction project will begin in February on exit 17, requiring a detour to return to I-84. We will provide all the details and updates here as we receive them.
To drive to Sugarpine from I-84 westbound:
Take exit 17 and turn left at Marine Drive, the far light.
Turn left again onto Frontage Road.
The rest is the same as the eastbound directions.
To drive to Sugarpine from I-84 eastbound during construction:
Take exit 17 onto Frontage Road and turn right on Graham Road at the end.
Turn left at the second light, the beginning of the East Historic Columbia River Highway.
Follow the road down and around the bend to find Sugarpine on your right, in Glenn Otto Park.
Concerning exit 17 construction:
There will be many lane closures during the construction on exit 17. If the traffic looks bad, take exit 16, to Wood Village. It will not be under construction. Turn right at the exit from I-84 East, or left from I-84 West, then left at the light on Halsey.
Continue on Halsey, through downtown Troutdale, all the way until you see Sugarpine on the right!
To return to Portland from Sugarpine during exit 17 construction:
Continue back through Troutdale and through the main light and around the bend. The road will become Halsey. Turn right at the next light for I-84.